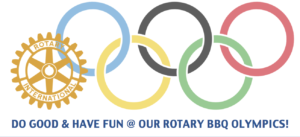 The Rotary Club of Harlem, joined by Chinatown, Inwood, Metro NYC, New York, Riverdale, and Wall Street hope you can join us to raise money for a good cause and have a good time.
BBQ Olympics
Come with the kids or come by yourself to enjoy all you can eat food & drinks, friendly competition with Olympic style games, medals, BBQ contest, raffles, prizes and more. The 1st annual Rotary BBQ Olympics will be an action-packed, fun-filled day the whole family will enjoy. From individual challenges to group team relays you have the chance to test your will, your skill, and your might against Rotarians from across the city.
So you think you can cook? Enroll in our BBQ cook-off contest and compete with some of the best chefs in the district. Whether you like brisket, chicken, pork shoulder, or ribs you'll have a chance to enter your best dish for judging. The contest form can be found below.
Buy tickets here:
https://www.eventbrite.com/e/1st-annual-rotary-bbq-olympics-event-riverside-park-at-145th-street-tickets-27130488020
Proceeds from this event will be going to Education Clinic, Inc. The Clinic is a 501(c)3 non-profit organization which is dedicated to providing educational and other programs to children with the conviction that education and opportunity are inextricably linked. Founded in 1979, when programs were initiated in Public School 92 and St. Aloysius, The Clinic, has since expanded from a small community based organization into a thriving education clinic which serves children from ages 3 to 21, from all the boroughs of the city, Nassau, Rockland, and Westchester counties, and Northern New Jersey. Every year The Clinic expands its enrollment and programs to accommodate the needs of the community. Affectionately known as "The Clinic", The Education Clinic Inc. can be summed up in one simple word, Opportunity.
Funds collected on Eventbrite will be going to the Rotary Club of Wall Street (a 501c4 non-profit organization), passed on to The Clinic, and will NOT be tax-deductible. The Rotary Club of Wall Street is hosting this Eventbrite page for the benefit of this event.
Tentative event agenda:
12:00PM EVENT START TIME
• Registration starts for all events and activities.
• Check out the amazing food prepared & served by Area 5 Rotarians.
• Table seating and picnic blankets on site and available, feel free to bring your favorite picnic blanket along.
12:30PM BBQ CONTEST JUDGING START TIME
1:00PM BBQ CONTEST JUDGING END TIME
RAFFLE TICKETS ON SALE THROUGHOUT THE AFTERNOON FOR AMAZING PRIZES – DON'T MISS OUT!ACCEPT THE CHALLENGE AND JOIN THE ROTARY OLYMPICS!
• ALL games and activities open to ALL attendees.
• Sign up for the Individual Olympic Games Skills Challenge and go for the gold! 
Family-friendly versions of shot put, discuss, obstacle course, speed challenge 
and more.
• Get your friends together and participate in the Team Challenge. Trophy cup 
for the team with the most points in challenges like tug-of-war, water balloon 
toss, hula hoop relay and more.
• Also… anytime activities for all including dominoes, cards and checkers, plus 
coloring books & temporary tattoos at the kid's table.
2:45PM LAST CALL FOR RAFFLE TICKET PURCHASES
3:00PM RAFFLE WINNERS ANNOUNCED
3:15PM 1ST ANNUAL ROTARY OLYMPICS WINNERS' CEREMONY
4:00PM EVENT END TIME
Please help us keep the park clean! Trash and recycling containers stationed throughout our event.