Join us in providing face masks to the elderly in Haiti and the homeless in NYC.
In a response to this global crisis, the Rotary E-Club of Wall Street is partnering with a graduate of its Haiti Entrepreneurship Camp and the Rotary Club of Delmas-Centre to help in the shortage of face masks to protect our New York and Haitian communities.
Our goal is to help fellow New Yorkers secure sustainable, washable face masks for non-medical use, while doing the same for 1,000+ elderly Haitians living through this pandemic.
The Rotary E-Club of Wall Street will donate masks to elder communities across Haiti and to homeless communities in New York City.
How many elderly and homeless will you protect?
($11 = 4 masks)
---
About the product.
Produced by WayBetter brands, a startup led by a longtime friend of Rotary
Made of Polyester Spandex Fabric (the same material the Haitian government uses to produce its masks)
Machine washable, intended for general public – not intended for medical use
How 1 connection helps hundreds.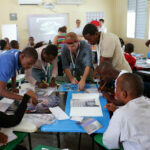 Our members have dedicated their time, talent and passion for helping Haitian youth achieve their full potential. Founded in 2013 by longtime members Susanne Gellert and Jan Holz, the Haiti Social Entrepreneurship Camp has trained 100+ future social entrepreneurs across Haiti.
After graduating from the Camp, Smiff Lormier leveraged his strengthened skills and Rotary connections to start his own successful business – WayBetter– manufacturing backpacks.


Today- in response to the global pandemic- Lormier is stepping up and transforming his manufacturing chain to produce non-medical face masks in hopes of protecting his community.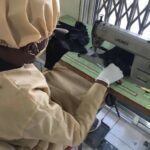 The Rotary E-Club of Wall Street is once again investing in Smiff Lormier and the Haiti economy by procuring these face masks. Together, we will provide critical supplies to vulnerable communities in Haiti and NYC.
Special Thanks to our Partners