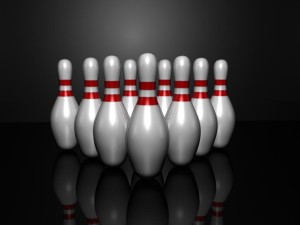 Clear your calendar – It's going down! Rotary Club of Wall Street Bowling kicks off on April 21st, and you're invited to take part in the festivities. Frames Bowling Lounge (550 9th Avenue) is our meeting spot for a night of fun and excitement. Come one, come all, bring a guest, and hang loose. This is going to be epic!
Please join The Rotary Club of Wall Street, The Brooklyn Bridge Rotary Club and Rotaract Club of Pace University for an evening of (somewhat) competitive Bowling and Fundraiser Social
FRAMES Bowling Lounge generously offers us a package deal for $33 per bowler which includes Bowling from 7pm to 9pm along with:
-A DJ will surround you with the music and accompanying videos
-A pair of bowling shoes
-A first round of shared Party Food Platters (e.g. Angus, Mahi Mahi, & Veggie Sliders; Spring Rolls; Stuffed Mushrooms)
-An first round of huge towers of specialty beer shared with teammates
-Additional drinks and food may be ordered from cocktail waitresses in the reserved adjacent lounge and Pool Table Game Room.
This event was lots of fun last year and again we will mingle, battle and bowl. We are forming teams of 7 Bowlers (or more if necessary) comprised of Rotarians and their friends as "Ringers". We invite those who do not want to bowl to socialize and cheer on their friends as they compete for trophies awarded to the Highest Score (and for some of us Lowest Score). Bring as many friends as you would like. Deposits are now being accepted to reserve a lane for each team.
All proceeds from a raffle will be donated to support Doctors Without Borders.
Buy tickets here: https://rcwsbowling.splashthat.com