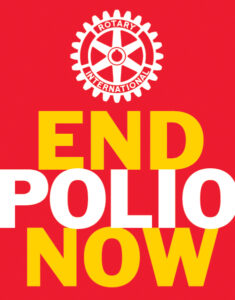 10-Jan-2014
NEWS RELEASE
FOR IMMEDIATE RELEASE
Contact: Petina Dixon-Jenkins, 847-866-3054, petina.dixon-jenkins@rotary.org
Humanitarian organization says disabling virus now must be stopped in neighboring Pakistan; as well as Afghanistan and Nigeria
EVANSTON, Ill. (10 Jan. 2014) — Rotary members worldwide are celebrating a major milestone in the global effort to eradicate polio: India, until recently an epicenter of the wild poliovirus, will mark the third anniversary of its last recorded case of the paralyzing infectious disease on 13 Jan.
On the same day in 2011, a two-year old girl suffered polio paralysis in Howrah district of West Bengal. Since then, India has not reported any new cases of wild poliovirus.
Leaders of the humanitarian service organization see the 13 Jan. milestone as a testament to the determination of its international membership of 1.2 million men and women – and especially the 122,000 Rotary members in India – to eradicate polio through the mass immunization of children, a goal Rotary took on in 1985.
In celebration of the decades-long battle and ultimate victory over this disabling disease in India, Rotary clubs throughout the country will illuminate landmarks and iconic structures on Jan. 13. India Gate in Delhi and Red Fort in Delhi and Agra are among the structures that will carry Rotary's dramatic message – 'India is Polio Free'.
Read the full article here:
https://www.rotary.org/en/node/102436