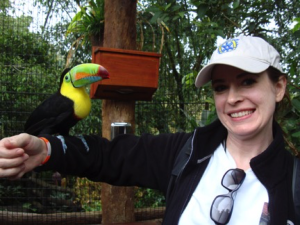 Wednesday, February 17, 2016 from 6:00 PM to 8:00 PM:
The Rotary Club of New Tampa is the sponsor club for the University of South Florida Rotaract Club. For the third time, we are partnering with the Rotary Club of Alajuela for community service projects in Costa Rica. Examples of past service projects include building a self-sustaining butterfly garden in the courtyard of San Rafael Hospital in May 2013. The butterfly garden is a welcome reprieve to patients waiting in the crowded Emergency Department as well as smoking cessation, oncology, and pediatrics patients. In May 2013, the team also refreshed paint in the courtyard of The Special Needs School in San Ramon. Both the oldest and largest special needs school in the country, refreshing faded paint lifted spirits of staff & families. The March 2014 project focus was the Alajuela neighborhood of Luz del Sol where the neighborhood children played in the street for lack of a safe space. The Rotary Club of Alajuela bought a corner lot and the team built a well-received playground in three days. This project then inspired a rebuild of Rotary's Camp Florida playground in September 2015, creating a better play area for our campers with special needs. A public elementary school in Alajuela is our project focus in 2016. Invu las Cañas is in need of maintenance work including ceiling, floor, and playground repair and painting. We look forward to creating an environment more conducive to safety and learning for the students and faculty.
Buy tickets here:
https://www.eventbrite.com/e/rotary-club-of-wall-street-meeting-speaker-kathleen-novak-42-broadway-tickets-21112326537
Biography:
Kathleen Novak is a member of the Rotary Club of New Tampa and is a Paul Harris Fellow Plus Seven. She is President of Novak Knows, Inc and has over 20 years combined healthcare and management consulting experience. She worked several years as a Level One Trauma Pediatric Intensive Care Nurse and currently enjoys participating in periodic emergency preparedness exercises with the State of Florida. Kathleen was a member of the medical team for the 2012 Republican National Convention in Tampa. Kathleen feels most fulfilled volunteering as a nurse, most recently as a pediatric nurse at a children's cancer camp at Rotary's Camp Florida. She is a self-described people person and enjoys visiting other Rotary Clubs, most especially Rotaract Clubs. Kathleen feels Rotaractors greatly augment the Rotary family. 2016 finds Kathleen in charge of the University of South Florida Rotaract Club International Service Project. This will be the third time she has been on the International Service Project team with the USF Rotaract Club.