Bonaventure joins Rotary after more than two years in Haiti, where he was the Country Director for an international NGO focused on education and community development. He began his career in international development in his native country of Benin, where he worked for more than five years for the World Bank on various community development initiatives. He has also served as a Technical Advisor for Plan International USA in Liberia, and has led several economic development trainings for Haiti's Ministry of Finance. Bonaventure holds a Masters in International Development Policy from Duke University, and an undergraduate degree from Purdue University. He is fluent in French and Haitian Creole.
Bonaventure's work at the Rotary Foundation includes supporting Rotarians and grant staffs in the design and implementation of sustainable Economic and Community Development Global Grant projects.
Dr. Selim Jahan is the Director of the Human Development Report Office (HDRO) of the United Nations Development Programme (UNDP), New York. Prior to his appointment to this position in 2014, he served as the Director of the Poverty Division of UNDP (2007-2014).
Dr. Jahan was the first Deputy Director of (1996-2001). Prior to that, he served as a Policy Advisor in HDRO from 1992 to 1996. During his time in HDRO, he was a member of the Core Team that authored nine global Human Development Reports (1993-2001).
Before joining UNDP in 1992, Dr. Jahan held different positions in universities, national governments and other international organizations. He was a Lecturer of Economics (1974-77) and Professor of Economics and Director of the Economic Research Unit, University of Dhaka, Bangladesh (1984-89). He was a Lecturer, Department of Economics, McGill University, Montreal, Canada (1983-84), and a Visiting Fellow, School Of Public Policy, University of Maryland, College Park U.S.A (1992).
Dr. Jahan served as the Economic Adviser, Planning Commission of the Government of Bangladesh (1989-90). He has also worked as an Adviser and Consultant to various international organizations including ILO, UNDP, UNESCO, and the World Bank during the 1980s and the early 1990s. He was the Secretary General of the Bangladesh Economics Association (1991-92).
Dr. Jahan holds a Ph.D. with distinction in Economics from McGill University. He is the author of 10 books and more than 150 articles in various national and international academic journals. His latest book entitled Overcoming Human Poverty – Essays on the Millennium Development Goals and Beyond, came out in 2014.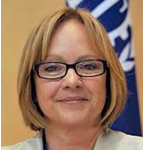 Norma Powell
Norma Powell is the general director of the Center for Facilitation of Investment (CFI). Norma Powell has most recently served as Corporate Relations Officer of Brasserie Nationale d'Haiti (Brana). She has also been the President of the Association of Industries of Haiti since 2012. Before that she has worked as a trader in edible oils in Switzerland, project coordinator for construction sites in Nigeria, and executive director of a cotton trading firm.
The CFI is Haiti's state agency established in 2006 to attract and promote investments.
Alexander Schlaubitz (47) took up his role as Head of Marketing at Lufthansa Passenger Airlines in Frankfurt in January 2013. In this position, he is responsible for the airlines' entire marketing activities. Besides classic advertising and brand management, this includes direct marketing and marketing analysis. Schlaubitz reports to Jens Bischof, Member of the Lufthansa German Airlines Board Product, Marketing & Sales and Chief Commercial Office.
Most recently, Schlaubitz worked for Facebook as Director of Customer Marketing for Europe, the Middle East and Africa (EMEA).
After graduating in business studies from the University of Missouri, USA, Schlaubitz gained his first, professional experience at a number of marketing companies in the USA.
In 2001, he moved to the global advertising agency Leo Burnett and in 2003 to the communications agency Change Communications. His responsibilities there included the strategic planning for clients such as Johnson & Johnson, Adecco, Campari and Nokia. Three years later, Schlaubitz became marketing director for Europe, the Middle East and Africa at Intel Corporation in Munich, before moving to the same position at Facebook in 2011
Heavily involved in:
Lufthansa Runway to Success TV series (http://www.lhrunwaytosuccess.in/)
Runway to Success TV series is an unprecedented reality programme that celebrates the spirit of Indian entrepreneurship. Thousands of contestants vie for a spot among the shortlisted SMEs who compete on the series. The contest kicks off with 7 competitive episodes, in which a featured guest business leader selects a winner from 3 SME contestants on the show. These episodic winners are further tested in the semi-finals, and finally, the top 3 vie go head to head in the Grand Finale.