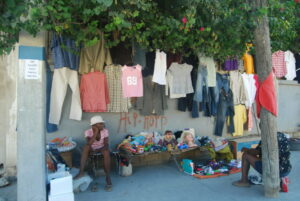 Our member Jan Holz is coordinating a project in Haiti. Please read more below!
Our project's background
January 10, 2010; a huge earthquake hit Haiti-one of the poorest countries in the Western Hemisphere. More than 200.000 people passed away. Houses were destroyed, businesses devastated, and buildings collapsed. Early in the next day, many international Non –Governmental organizations (NGOs) were on place to providing food, hygienic kits, shelters, etc… Life was very hard for the population, and would have been even harder without those NGOs that came to lend a helping hand. Three years later, it is becoming obvious that the countless NGOs were paramount to averting the immediate humanitarian crisis. As truly sustainable development however can only come from the inside, it is now time to shift our attention from short term support to long term solutions. That's how the idea for our inaugural Entrepreneurship Camp was born.
From start to today's team
In July 2013, Jude V.P. Tranquille, founder of devoted servants Haiti, spoke at the Rotary Youth Leadership Awards North America Conference in Washington D.C. Jan Holz, member of Rotary Wall Street NYC, shared the vision from the first moment and brought new team members on board.
Alexandra Heinrich, a Lufthansa colleague of Jan, always wanted to participate in business-related development aid and joined the team shortly after.
Smaragda Strouba inspired by Alexandras commitment joined the team in September.
Jonas Eichhorst, entrepreneur in Singapore, was thrilled by the topic and has been contributing all his experience and endless network to the project.
At the moment the project will be locally implemented by Devoted Servants Haiti and is currently supported by the Rotary Club of Wall Street NYC, the Lufthansa HelpAlliance as well as several Rotaract Clubs in Haiti.
The actual project
In a 2-week intensive workshop program, small entrepreneurs with the will to professionalize their own business will have the opportunity to receive the knowledge they need to reinforce their businesses. Classes will be held by both international and local volunteer speakers. During the workshop period, every participant will be requested to create his/her own business plan. The participant then can convince the committee of the feasibility of his/her business idea and will have the opportunity to receive an investment in his/her business.
Why we need external funds
All of our team members are volunteering their time and are not being financially compensated in any way. However, funds are required on the ground to cover basic expenses like transportation and basic infractructure costs for hosting this 2 week camp for 30 people. If we manage to reach our funding goal, we will be able to reimburse flight costs for our speakers. Finally, any excess funds will be invested into the most promising businesses coming out of this camp to provide further help in getting things off the ground ensuring maximum impact of every dollar raised.
Do you want to support this vision?
Become a volunteer lecturer or support the project with your donation.
Help Haiti's young entrepreneurs to use their potential!
Everyone with knowledge in business or soft skill-related topics is more than welcome to join our international team. Every of our volunteers is responsible for his class session and can fill it with his own ideas corresponding to our overall curriculum. As an appreciation of your engagement, our local partner DEVOTED SERVANTS invites every volunteer to get a unique, personal impression of the beautiful country of Haiti. Local tours, cultural events, beautiful beaches on this tropical island and visits to local industries will make your help an unforgettable experience for yourself.
Feel free to contact us!
https://fundly.com/entrepreneuship-camp-2014-in-haiti
[SlideDeck2 id=3930 ress=1]